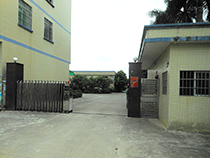 Guangzhou Mingli ART & CRAFT Products Co., Ltd. is a design, development, sales and have the right to import and export of mainland enterprises.
Is a factory specializing in the production of metal craft gifts for Mainland enterprises. A full set of equipment and technology in Taiwan. By domestic and foreign customers the support and trust products are sold both at home and abroad, but also by the
acclaim and praise of customers. The main products include: badges, badge, medal, medals, nameplates, the number plate, cell phone strap, key ring, hat clip, cufflinks, tie clips, bottle opener, coins, bookmarks, ashtrays, fruit fork base, wallet, tin badge, Letter Opener, luggage tag, card case, refrigerator, clothes and other luxury gifts. The main process are: corrosion, stamping, imitation enamel, silk screening, Epoxy, tin, zinc alloy die-casting, offset printing, color, PVC and other soft. Available for the production of different metals, copper, aluminum, iron, stainless steel, tin, zinc alloy, pewter, etc..
Guangzhou Mingli ART & CRAFT Products Co., Ltd. covers an area of 6000 square meters, has a staff of more than 800 people, 10 years building companies and Sydney Olympic Games, China Telecom, Hong Kong Disneyland, Coca-Cola, Amway, life insurance, Kentucky, and production of knowledge products and more businesses, factories constant innovation in new products to meet the different needs of customers, products exported to Europe and America, Southeast Asia, Japan and the country had to, more than 10 years of production, management experience, the company has been "the credibility of quality, service" as the operating principle in order to create a brand for the first goal of the industry.
Guangzhou Mingli ART & CRAFT Products Co., Ltd. is a team making progress, improving the team, after years of efforts by domestic and foreign customers trust and support. "Ming Li and ease of doing business is" - this is Ming Li who has been the pursuit of present and future life goals.
Ming-Li company is strong in production technology, professional, fine craftsmanship and price Wumart him, sincerely welcome new and old customers at home and abroad to map, sample order. Welcome to our customers call us, email us or visit our factory tour guide.
The company's mission is: to rely on the quality, broaden the market, quality service, to win the trust of users.
Our business philosophy is: honest, responsible and prompt delivery.